There are so many events happening around Boca Raton every week we have included a few that you may be interested in! You can also buzz by the calendar page and check out all the different community calendars and surrounding city and event calendars for South Florida!
October 22nd
New Play Readings
Let your imagination be carried away at one of this years' series of New Play Readings. At these events, a talented group of dramatic readers and performers will set the scene and tell the story using primarily their voices, with some acting, singing and dancing thrown in, too.
Play Readings Series (4) 2018-2019
Through staged readings, this program develops new plays by highly acclaimed playwrights.The Diamond Girl –Monday, October 22, 2018 at 7:30 pm
Agent of Change –Monday, January 11, 2019 at 7:30 pm
The Quintessence of Joy -Monday, February 11, 2019 at 7:30 pm
Farce and Away -Monday, March 11, 2019 at 7:30 pm10% discount for series subscriptions (4 productions)
Tickets:  $36 series / $10 individual
October 23rd
Howl-o-ween Fundraiser for Tri-County
Max's Grille is gearing up to host their 9th annual Howl-o-ween fundraiser & dog costume contest with Tri County Humane Society. Join us on the patio Tuesday, Oct 23 from 5:30-7pm. $20 at the door gets you passed hors d'oeuvres and (2) select cocktails. To pre-register, call Tri County at 561-482-8110.
50 contestants max for the dog costume contest. 1st, 2nd & 3rd place winners will receive prices.
Raffle tickets will be available for purchase for a change to win a variety of prizes!
Linkedin Local Event 
LOCATION: Tilted Kilt Pub and Eatery, 3320 Airport Road #1. Boca Raton, FL 33431 6 pm – 8 pm
Linkedin Local Delray/Boca/Boynton Beach – Connecting Humans
#LinkedinLocal is a meetup concept originally created on LinkedIn with the purpose to meet your online LinkedIn connections face-to-face, offline.
The purpose is to unite people from all walks of life, in facilitated events around the world, to genuinely get to know the humans behind the LinkedIn profiles, and connect beyond the job titles, business cards and company names.
Why should you attend?
To network in person to meet people for no other reason than getting to know them on a truly personal level, and letting them get to know you, to inspire, motivate and grow each other collectively. Click here to RSVP
October 24th 
Impact 100 Palm Beach County Fall Wine and Lite Bites
PURPOSE – Current and prospective members of Impact 100 Palm Beach County will enjoy a reception and hear updates from past grant recipients who have brought needed programs to our community with Impact funding.
ORGANIZATION INFO: Through strategic, high-impact grant making, Impact 100 women empower local nonprofits to bring about positive change in our community. Last year, $547,000 was donated to ten organizations serving south Palm Beach County.
COST – Complimentary
RSVP – Required at RSVP  or (561) 336-4623
October 25th 
Come and hear all about the economic development efforts taking place in Boca Raton, featuring our guest speaker of the morning, Economic Development Manager, Jessica Del Vecchio!
14th Annual Shriek Week
October 25

 – 

October 26
October 26th 
Join us for an afternoon of networking, lunch, and Women and Wealth: The Confidence of a life well planned. FemCity Boca Delray Board member Christina Karas, with Wells Fargo Advisors, will share ways to focus on your financial future and how to prepare for retirement. Remember to bring your business cards and get to know our dynamic Boca Delray Fems! Special Thanks to Dessert Sponsor Sweet Heaven LLC.
Register by October 16th to be included in the Early Bird registration drawing! Advanced registration required click here    
Novello 
5999 N Federal Hwy #4




Boca Raton

,

 FL 

33487
15th Annual Go Pink Luncheon
October 26 @ 11:00 am

 – 

1:30 pm
Join us at South Florida's premier breast cancer awareness event! You will enjoy a nationally known celebrity speaker, a delectable luncheon, fabulous "pink" amenity, the amazing AutoNation Pink Daisy Pick Raffle and so much more! Community Philanthropist, Patti Carpenter serves as the luncheon Chair. All proceeds benefit cancer programs at Boca Raton Regional Hospital. Tickets and Information
October 27th 
During this event you will be mulching, plot maintenance and helping the gardeners.Don't forget your water and sunscreen too. Children of all ages are welcome to the event and everyone is encouraged to bring friends and guests!Click
here
for info. This is a recurring event.
2018 Alzheimer's Walk – Mizner Park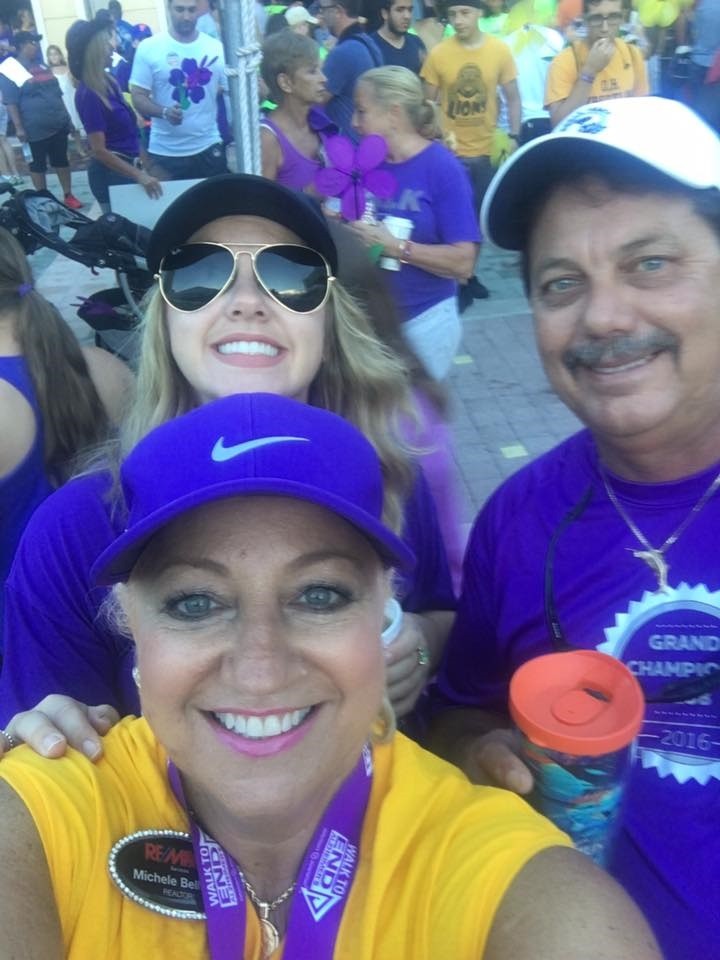 Join our team!
October 28, 2018  is the Boca Raton Walk to End Alzheimer's at Mizner Park. Please consider joining our virtual team and or donating to find a cure!  Fundraising Page

I'm walking to help reclaim the future for millions. By participating in the Alzheimer's Association Walk to End Alzheimer's®, I'm committed to raising awareness and funds for Alzheimer's research, care and support. Please consider joining our #SoooBoca Team in 2018 and lets knock out this insidious disease!
My Bubbie passed away from Alzheimer's and that is one of the reasons I am involved in all things Alzheimer's here in Boca Raton and South Florida. I specialize with seniors that are downsizing and many times one of the reasons they are having to move to assisted living or in with family is because of Alzheimer's.
Thank you for joining the movement! The end of Alzheimer's disease starts with you. You can follow our fundraising efforts on Instagram
Disclosure:   Information is deemed reliable at the time of this post. Please contact restaurant/business/non profit or anyone mentioned in this post for details and information in regard to specifics. Dates and times may change so please confirm ALL details with organizers.