In South Florida back to school stress is right around the corner for mamas and college drop off season is here so in a "been there done that" kinda scenario and as a mom of millennials, may I suggest that now is a great time for a quick staycation and #SoooBoca has a great suggestion for you!

Boca Center has put together a very cool Mom's Staycation package available the weekends of July 27th and August 3rd for the summer of 2019! This is the perfect South Florida mom escape with your favorite gal pals! Check out this fun itinerary and book yourself some time away from the everyday!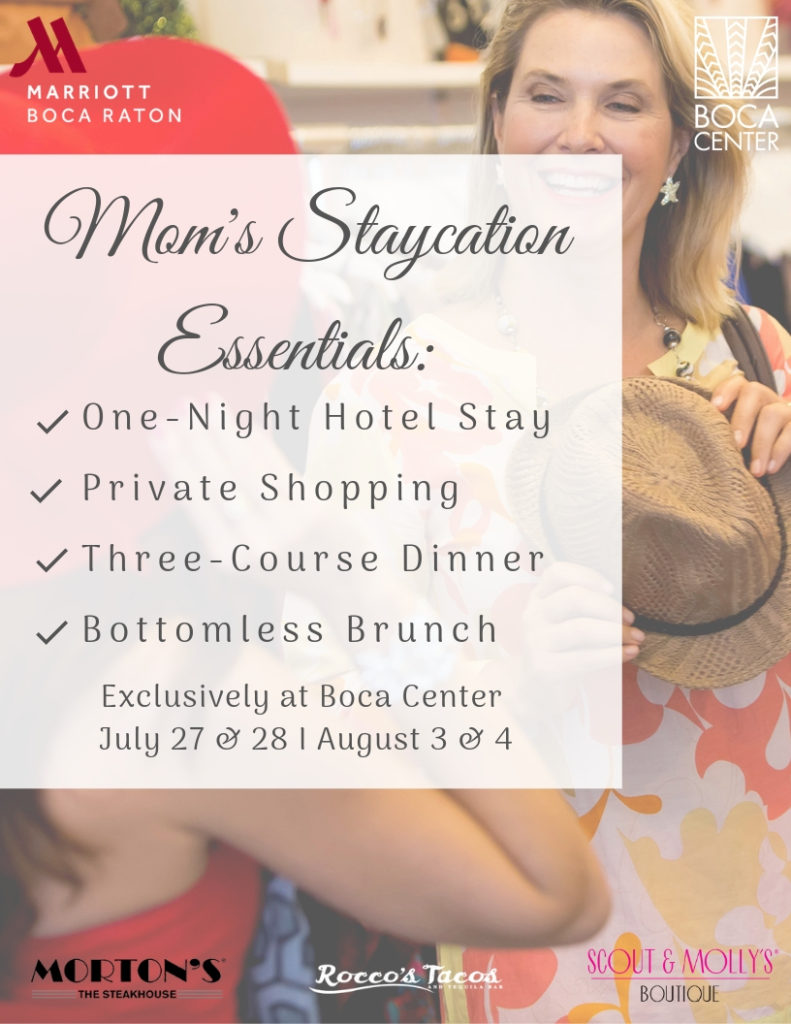 Need a Little Mini Vacay?
This mom's night out package includes:
One night stay at the Boca Center Marriott
Champagne Toast upon arrival
Prefix Three Course Dinner at Morton's Steakhouse (includes 2 glasses of wine)
Private Shopping at Scout & Molly's
Late Checkout at 2pm
Brunch at Rocco's Tacos (including Bottomless)
We are offering this for two guests ($379 total) or four guests ($679 total).
Make Your Plans
I simply love staycations, momcations and selfcarecations (is that even a word:) and Boca Center is a beautiful one stop happenin' spot right in the heart of Boca Raton for a staycation! So make sure you book your reservation today and enjoy your special selfie care getaway!
5 Reasons You May Need a Staycation
You simply need a break!
You really, really need a good nights sleep!
You need to reconnect with with your girlfriends!
You want to brunch and shop like a lady boss!
You deserve it!
Don't forget to fly by the Buzz in Boca for events and more around Boca Raton, South Florida and Beyond!
This blog post was sponsored by Boca Center. All opinions expressed in the blog post are my own and not in any way influenced by any sponsor or sponsored products. Any statistic, quote or other representation about a service, product, event or experience should be verified with provider/manufacturer/vendor and or business.