Are You Thinking Of Downsizing?
Moving is never easy! It is overwhelming, stressful, emotional, time sucking and just frankly a big drag in things we have to do in life. It is absolutely mind-boggling if you have are cleaning out a home due to the passing of a friend or loved one or perhaps you have a senior who is need of downsizing to assisted living.
One of the things that I see as a Realtor, when my clients need to downsize is how overwhelming it truly feels for the seller and their family. I have some great tips for you and resources to assist you in coordinating making a move.
Click Here To View The Weekend List Here! New List Every Thursday!
Where do you begin?
Well here is the good news…there are professionals out there that can help you coordinate all the "moving" pieces to your clean out, downsize and actual move.
In this short video I have 5 tips to help you get started with de-cluttering and downsizing your home. Nothing needs to be done in a day so take a deep breath and start with one closet, one room or one bathroom.
One thing I suggest, especially in this unprecedented real estate market, is to check out your latest home value.
Do You Live Outside Of South Florida?
If you are living out of state and don't want to or cannot make the numerous trips here on your vacation time, your personal time and holiday time to downsize you can hire professionals and direct them to what you want to keep, ship, sell and donate. I can assure you there are individuals and companies that can help you
Get The "Declutter Your Home in One Day" – Worksheet
As a Realtor with designations/certifications working with seniors downsizing and probate properties I am involved with many senior organizations and the Boca Walk to End Alzheimers…believe me we brainstorm ideas for our clients to make things easier for them.
Having The Conversation
My first question to my real estate clients is how are you doing? Many of my clients are caregivers to their parents and are tired, worried and anxious. Many of my clients are making a significant life transition and simply need to bounce ideas off of me in regard to renting vs buying their next home.
The next questions are how do you plan to get the property emptied, how do want items shipped to you, what are you wanting to keep or move. There are always many questions and all of them have an answer and a solution believe it or not.

Downsizing and Moving Tips
Come up with a game plan that works for you and some goals in regard to selling, like time frame, where you want to go, how much you want to spend and what will make you happy.

Communicate with family and friends about your move. At some point you will probably want to share your plans with people you know. You will know the right time to do this.

There are great professionals along with your real estate agent that can help you. I have a great referral team that can assist my sellers and their family. I have placement companies for independent and assisted living, move managers who can help you pack up, car shipping companies, moving companies, estate, probate and elder law attorneys, CPA's and financial planners and contractors that I can put you in touch.

Dealing with a household of possessions. So just a little secret…nobody really wants your furniture and household items. Taste and styles change so don't get your feelings hurt. Non-profits won't take everything either like years ago. They resell items so what they take will need to be in decent condition. Keep what you want to keep, give away to friends and family, donate what you can and trash anything else.

Stage your home to sell it. Many agents can assist with this simply by moving a few pieces of furniture around and decluttering your counters, getting rid of things like silk plants, broken items and clutter. The good news is…you can always pick up things at a local thrift store or HomeGoods to do give your home an inexpensive fresh look.
Lastly, I do work with probate real estate situations involving a home sale. This is typically a devastating time for families and friends and if you are appointed to be the personal representative the added stress of having to prep and sell a piece of real estate is even more difficult. I can assure you that even if you live out of the area, as an agent that works with these situations frequently, many of the same tips do apply. The difference is you are not here to do the labor. I have clean out companies, cleaners and even a virtual staging company that can make the home presentable.

I also work with with a number of elder law attorneys, estate and probate attorneys and real estate attorneys if you need a referral.
Don't Do This By Yourself
My point is this…don't go it alone, let people "more organized and connected" than you help you out. You are not on an island believe it or not. Reach out to professionals like myself that can come up with a game plan with you and for you whether for yourself or the senior in your life.
PS…if you are thinking of selling your home check out my 7 Tips To Selling Your Home Faster article for some timely information to get the highest and best price for your home!
☀️ Disclosure: This post contains Amazon and other retail affiliate links. If you purchase I will earn a small commission from these companies. Shopping through these links helps support my business. As always, all opinions are 100% my own.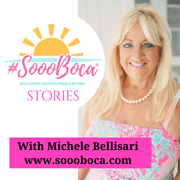 About Michele Bellisari
Michele Bellisari is the founder of #SoooBoca® Lifestyle & Media based in Boca Raton and a Realtor with Real Broker. If you are thinking of buying or selling real estate in Boca Raton and any of the surrounding cities let her help you out! Thinking of purchasing a vacation home? Michele blogs, vlogs, posts and shares all things Boca Raton, South Florida & Beyond from events, people, food, travel, home decor, fashion, beauty and real estate! You can find more at www.soooboca.com and on all the socials @soooboca. Information in this post should be verified with your accountant, attorney and or financial planner as well as the state of Florida. Information in posts should be verified independently. Information deemed reliable, not guaranteed.
How Can I Help You Buy or Sell A Property?
Click to Get Your Home Valuation