Lilly Pulitzer for the All Ages
Lilly Pulitzer shops throughout South Florida are the perfect place to go to, to outfit your entire family, office and home! At #SoooBoca we are Lilly regulars; we love the bright cheerful patterns, the easy to wear clothes and simply fabulous accessories. No matter what the occasion, Lilly seems to always be my go to staple in my Boca Raton closet!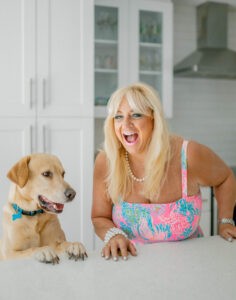 Disclosure: This post contains Amazon and other retail affiliate links. If you purchase I will earn a small commission from these companies. Shopping through these links helps support my business. As always, all opinions are 100% my own.
The Story of Lilly Pulitzer
Today, the brightly colored floral apparel that signifies the designs by Lilly Pulitzer has become synonymous with South Florida. The socialite was living in Palm Beach when she leveraged her husband's ownership of citrus groves and began selling fresh squeezed juice.
Her dressmaker designed a "uniform" for her to wear while she worked; something to hide the stains resulting from splattering citrus. The brightly colored dress was such a hit with her juice clients that she she transitioned her efforts and the "Lilly Pulitzer" brand was born.
Now in operation for sixty years, this iconic resort wear brand has certainly stood the test of time.
Lilly for Everyone
While the brand initially produced women's "shift dresses" it has grown and diversified over the years and now serves people of all ages. Women's apparel has expanded from simple dresses to include tops and bottoms, loungewear, activewear, rompers, shoes and swimsuits.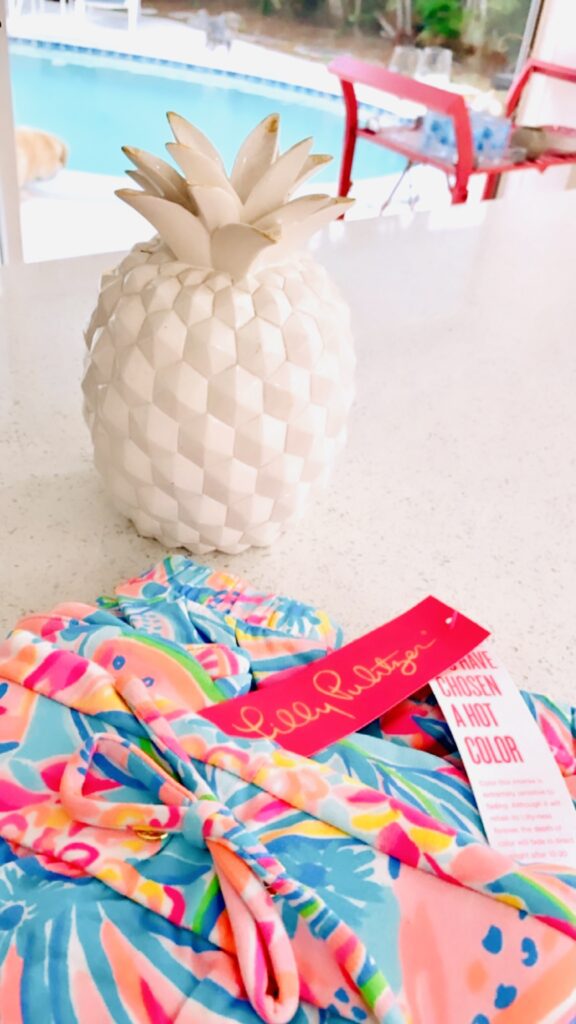 The line for girls emcompasses everything from dresses and rompers to swimwear. There is also a large selection of "matching items", perfect for those mother/daughter photo ops! If you were hoping to include your husband and sons in your family picture, you are all set. The brand now provides matching swimwear for men and boys.
Lilly Pulitzer Accessories Are Everything
As the company grew they also began to produce of classic yet trendy accessories, many of which (including scarves, notebooks and agendas) feature the iconic "Lilly Pulitzer" prints. The brand also shares a line of sunglasses, jewelry, bags and travel accessories. PS…love their earrings and bracelets!
Palm Beach Look Anytime Of The Year
Palm Beach was home to Lilly Pulitzer and her influence remains strong today. The stores are located throughout South Florida and, when traveling the area you are sure to see her timeless fashions well represented.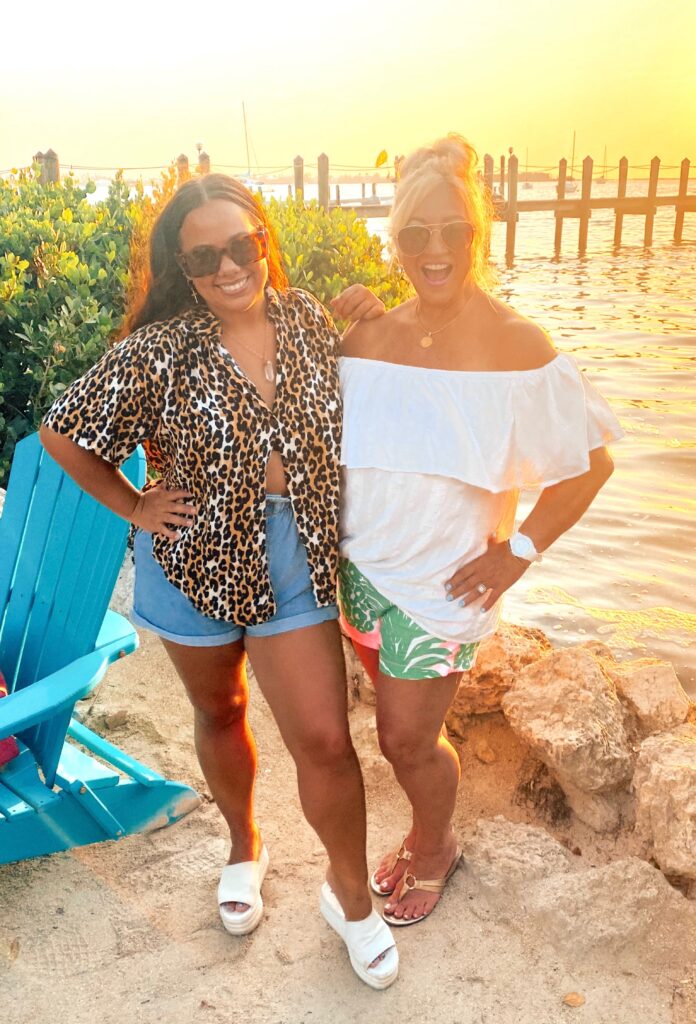 At #SoooBoca we LOVE our Lilly! Her styles are perfect for all of the things we love to do and there is a store conveniently located in the Town Center mall here in Boca.
I was gifted this cool cooler for my birthday a few years ago and it is truly one of my favorite Lilly Pulitzer items! Functional and fabulous! Click on the pic for deets via Amazon.
Sunshine Sale
A favorite time of year for me is when Lilly Pulitzer has their "sunshine sale". I save gift cards from my birthdays and holidays that my family have given to me to get extra discounts on Lilly clothes and accessories that I love including home decor items!
Casually Elegant Fashion
We can dress casually for a day of window shopping and lunch, don her spectacular swimwear for a visit to the beach or pool, and dress up and accessorize for a dinner at one of our favorite local restaurants. We adore her products; their patterns always make us smile. And, in keeping with times, Lilly now offers the ultimate accessory, a line of machine washable face masks.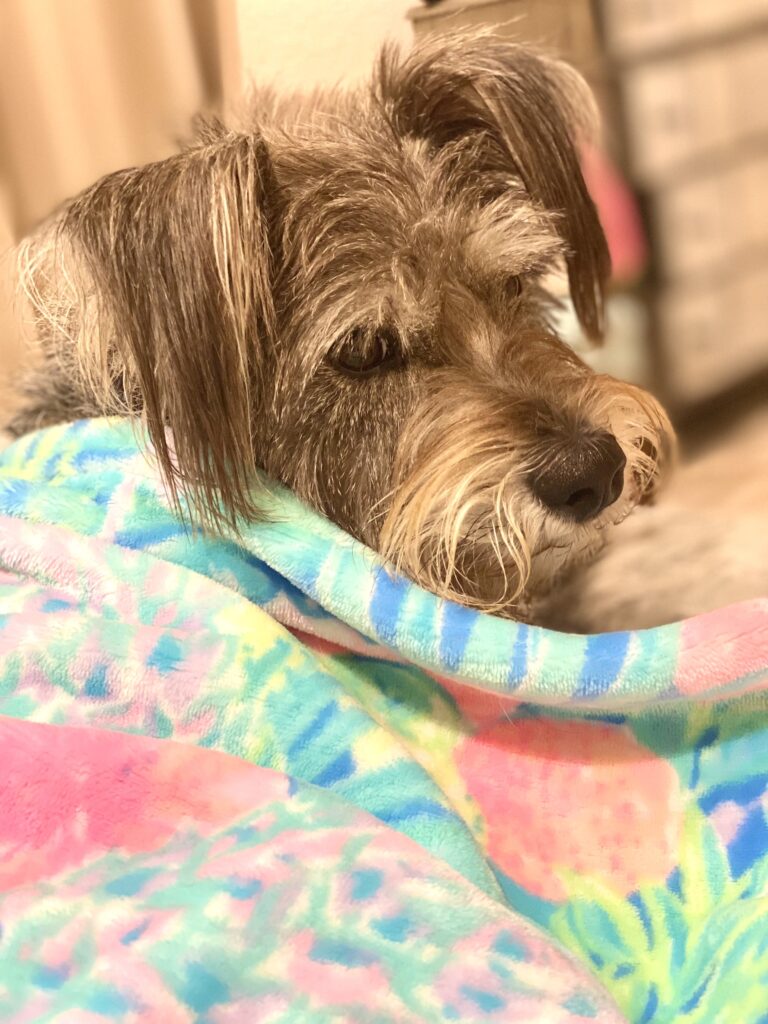 Giving Back To The Community
I for one have shopped at Lilly Pulitzer here in Boca at Town Center Mall during one of their shop and share events. The brand partners up with local non profits frequently! For example, Lilly Pulitzer was a corporate sponsor of the 2022 Kips Bay Show House Palm Beach which supports Boys & Girls Clubs of Palm Beach County and Kips Bay Boys & Girls Club.
Lilly Repurposed
Now y'all know I love to thrift and buy via consignment online and here locally! I have scored amazing Lilly Pulitzer accessories, dresses, skorts and more via Poshmark! Was thrilled to discover that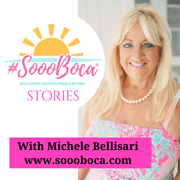 About Michele Bellisari
Michele Bellisari is the founder of #SoooBoca® Lifestyle & Media based in Boca Raton and a Realtor with Real Broker. If you are thinking of buying or selling real estate in Boca Raton and any of the surrounding cities let her help you out! Thinking of purchasing a vacation home? Michele blogs, vlogs, posts and shares all things Boca Raton, South Florida & Beyond from events, people, food, travel, home decor, fashion, beauty and real estate! You can find more at www.soooboca.com and on all the socials @soooboca. Information in this post should be verified with your accountant, attorney and or financial planner as well as the state of Florida. Information in posts should be verified independently. Information deemed reliable, not guaranteed.
How Can I Help You Buy or Sell A Property?
Click to Get Your Home Valuation