Styling Ideas For Any Budget
Bar carts are the new "it" item in home decor. They are incredibly functional, providing a space for your glassware and spirits while enhancing the appearance of the rooms in which they sit. They are the perfect "home accessory".
As a Realtor, I get to see some amazing home decor and patio decor and one thing that I have seen over and over again is…you guessed it…bar carts!
I recently purchased the prettiest pink bar cart from HomeGoods that I keep in my kitchen! It has wheels and is the perfect size! It was also deeply discounted and thus affordable and useful!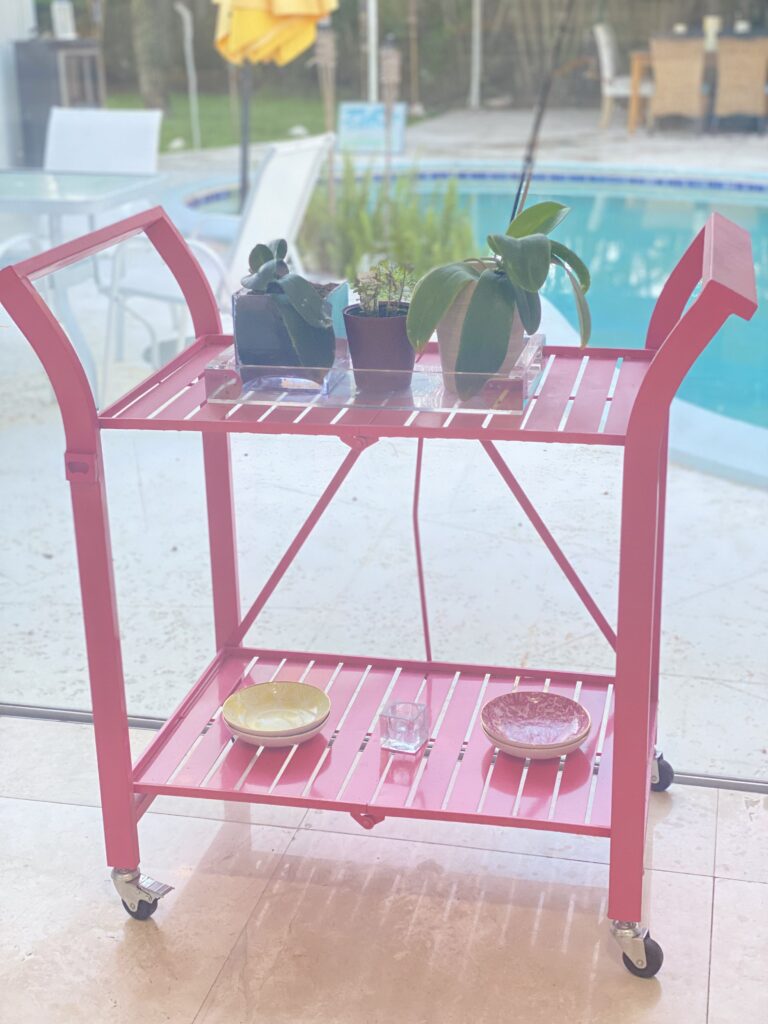 Other Ways To Use A Bar Cart
Now, keep in mind, a bar car isn't just for storing your fabulous collection of liquors and cocktail things…a bar cart has many uses especially when entertaining.
Consider using a bar cart as a coffee bar, to hold your office supplies, in your nursery or like I do (when not entertaining) as a plant stand with, my Lilly Pulitzer for Target plates on the bottom shelf!
Disclosure: The links in this post/on this page are affiliate links via Amazon and other companies and if you go through them to make a purchase I will earn a commission. 
Bar Carts: The Perfect Purchase for Any Home
And, a new and expertly styled bar cart is an ideal way to make your home a bit more inviting.
After all, who doesn't love a cocktail!
Styling Your Bar Cart
If you already own a bar cart, our tips below can help you give it a bit of a facelift. If you don't, consider purchasing one. They are available in a variety of sizes and shapes and in all price ranges. This is a home improvement that doesn't need to cost a fortune. Once you have your cart, consider these ideas.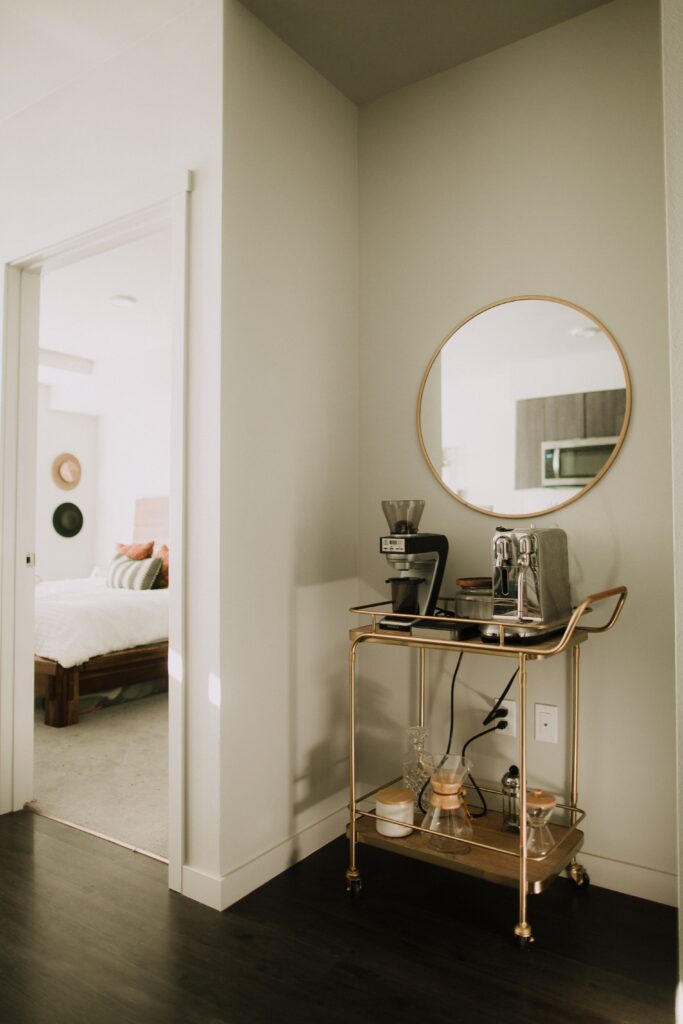 Maximize Your Space
Stock the essentials, not everything. You want your cart to be a beautiful focal point in your room, not an overcrowded storage area. You don't need to display each and every glass and decanter you own. Select a few special pieces. And, consider changing them when the occasion demands. Perhaps you have beautiful Christmas glasses that can be displayed during the holiday season and replaced with more classic and neutral pieces throughout the year.
Stock Your Florida Favorites
Of course, you will want to be able to offer your guests the standards from your bar: high-quality vodka, gin, whisky (rye, bourbon, and scotch), rum, tequila, cognac, and bitters. That said, it's always special to stock some locally produced offerings. Consider trying a bottle of Miami Club Rum, Fat Dog Spirits Vodka, or an artisan whisky from Citrus Distillers. Surprisingly, Florida is home to a number of distilleries, many of which welcome visitors.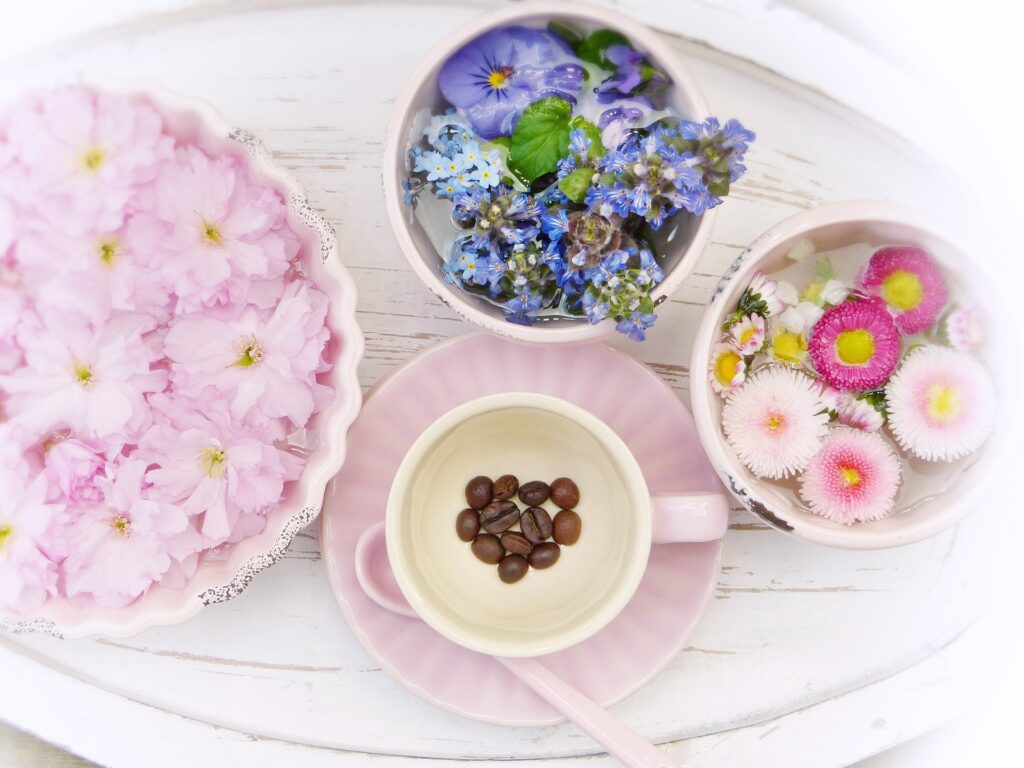 Keep it Fresh
When you live in South Florida, there is no excuse to not have something fresh and alive on your bar cart. Of course, a small plant is always a good choice. But so is fresh fruit. We live in the citrus capital of the world. A small bowl of lemons or limes will brighten up your bar! This is an especially good idea when you have guests; the fruit can be used to garnish drinks.
Accessorize, Accessorize, Accessorize!
Fabulous bar accessories are everywhere and are the ideal way to add a splash of color or flair to your bar cart.  Consider straws, wine charms, or a beautiful bottle stopper.  Elegant decanters are also eye-catching pieces. Make sure to include things of varying heights and sizes.  And, try this.  Set up the bar cart completely. Then, step back, take a look and remove one item.  Just as when you get dressed for an occasion, you don't want to be over-accessorized.
Keep Things Cool
A small but beautiful bowl for ice and/or a wine chiller are the perfect practical addition to any bar cart. Available in different shapes, sizes, and colors, these are stylish items that make your bar interesting as well as functional.
Creating a stylish bar cart is a great project. Browse the multitude of pictures online. Make lists of what you like, what you don't, and what you know are the "must-haves" for you, your family, and your friends.
Passion for Repurposing
Once you have an idea of what you'd like to accomplish, take a look through your closets and cabinets.  It's likely you have hidden treasures that will work to help create your dream cart. And then, do some shopping.  Whether you choose to shop online or venture out (safely of course) to some of Boca and Delray's awesome shops, you are sure to find exactly what you need.
When you have everything at home and have created the perfect cart, send us a picture!  At #SoooBoca, we love decorating, shopping, entertaining, and especially cocktails.  We cannot wait to see what you have created!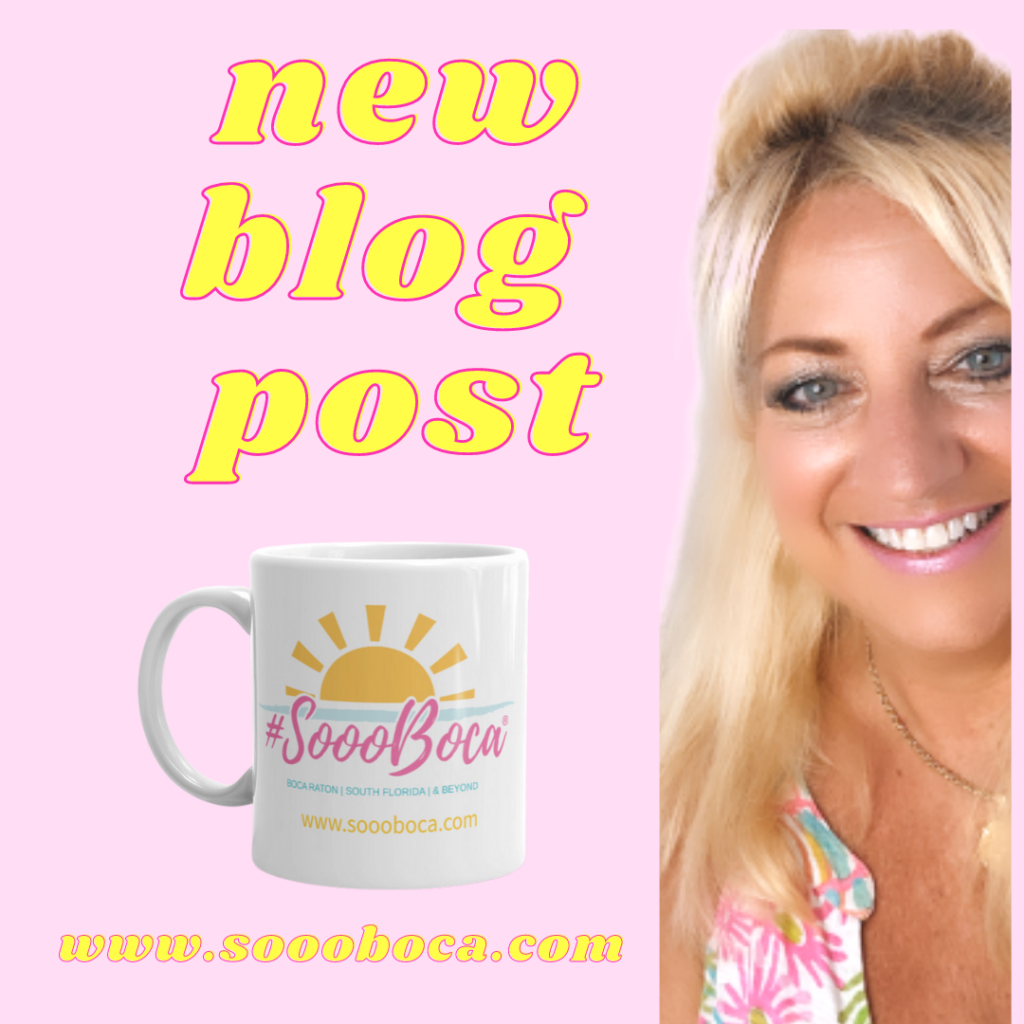 About Michele Bellisari
Michele Bellisari is the founder of #SoooBoca® Lifestyle & Media based in Boca Raton and a Realtor with Real Broker. If you are thinking of buying or selling real estate in Boca Raton and any of the surrounding cities let her help you out! Thinking of purchasing a vacation home? Michele blogs, vlogs, posts and shares all things Boca Raton, South Florida & Beyond from events, people, food, travel, home decor, fashion, beauty and real estate! You can find more at www.soooboca.com and on all the socials @soooboca. Information in this post should be verified with your accountant, attorney and or financial planner as well as the state of Florida.