What Is Clubhouse?
And just like that…out of left field here comes the invite only Clubhouse App! What is it you ask and why should I run, not walk to get involved with the Clubhouse community? Keep reading!
Connect, Collab, Learn on Clubhouse
#SoooBoca loves tech and loves fresh social media options and boy is this one cool option! This is one of those few times I have actually been on the ground floor of an app and platform like this. It didn't happen for me with Facebook, Snapchat, Instagram or TikTok but it is happening for me with Clubhouse.
Clubhouse social network is the perfect app for course creators, speakers, trainers, coaches, businesses, collaborators and connectors! If you have ever wanted your voice to be heard, and don't want to do video or a podcast, you can now make your own seat at the table with this app!
I love that CEO's, celebrities and industry icons from around the globe including Forbes Riley, Elon Musk, Amy Porterfield, Jasmine Star, have flocked to the platform and are sharing and fielding questions and advice from members.
Where To Find People
Once someone is officially on the app, they can make a profile and grab their URL to share anywhere. Here is mine @themichelebee.
Currently I have started two Clubhouse Clubs. The South Florida Network is for all locals, business owners and entrepreneurs in our area to join in and converse.
The second club I have is for Realtors called Club Real. I love to network with agents globally and refer back and forth so this is a club to do just that.
Anyone can start a club now on Clubhouse which makes it very nice and you will get a ton of invites to those clubs so choose wisely!
So What Is This Clubhouse App?⠀⠀⠀⠀⠀⠀⠀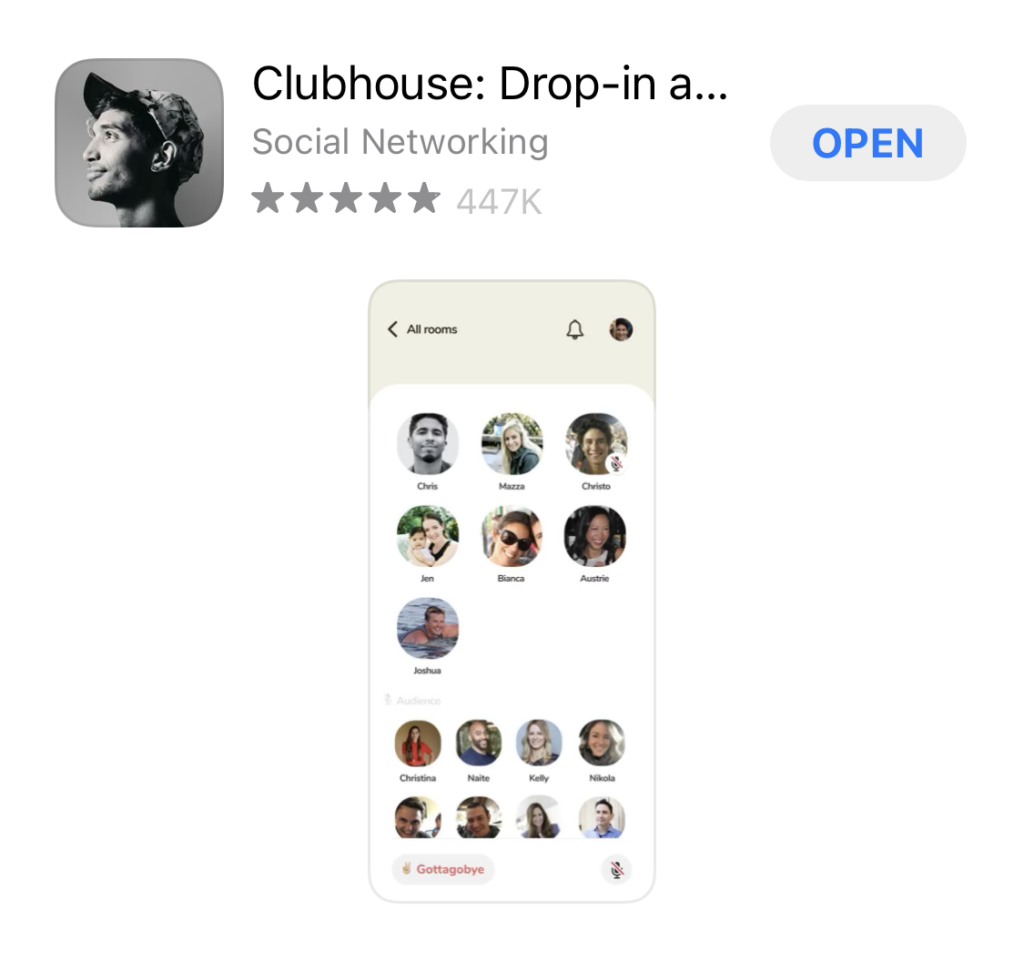 As per Mashable- In short: Clubhouse is an audio-based social media app. The company describes itself as "a new type of social product based on voice [that] allows people everywhere to talk, tell stories, develop ideas, deepen friendships, and meet interesting new people around the world."⠀⠀⠀⠀⠀⠀⠀⠀⠀
⠀⠀⠀⠀⠀⠀⠀⠀
⠀⠀⠀⠀⠀⠀⠀
Clubhouse is currently in beta mode, currently invite only and currently for iPhone users (I know, I know). Make sure to download the app and sign up. Why you may ask? Because users get "invites" to give away and if you are in someone's contact list, who is already on Clubhouse, who has invites, will probably share one of the golden Willy Wonka invites with you! ⠀⠀⠀⠀
Getting Started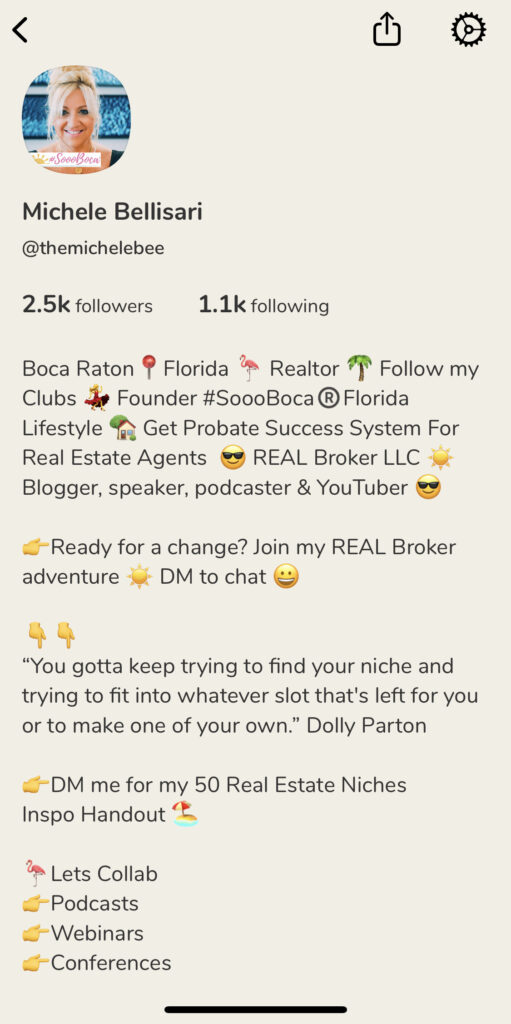 Add your profile photo with a great color for your background (not logo), add your profile bio (first 3 lines of 125 characters) are seen as a preview so make it good with a great hook to encourage other people to "follow" you! Take a look at mine @themichelebee and you can get a good feel for what to do!
Connect your Instagram and Twitter. There is no direct messaging feature on Clubhouse, but, and here is the great part of this…you will grow your Instagram following for sure so that is a huge bonus!
Start looking at the "hallway" which is the main feed on Clubhouse. This will show you current rooms that are happening…and trust me they are happening. You can "join" a room as a listener and also put up your hand to be a speaker. If you see a room you like, jump on in.
You will notice there are people at the top of each room with the "green bean". These are room moderators and they guide the conversations in each room. They also have control over inviting people up on "stage" (that is where they are) to join the conversation or ask a question. Sometimes you may be also added as a moderator!
Clubhouse Tip: Mute your "mic" if you do go on the stage as Clubhouse does not automatically mute you when you go up and well, lets just say, we have all heard some bathroom sounds and you don't want to be that person!
One thing to keep in mind is that the Clubhouse algorithm (yup they have one just like all the other socials) is looking at who you follow, what Clubs you join and your activity to curate your experience. The first couple of weeks I had rooms being suggested to me that did not peak my interest, I now know that I can hide those rooms and also in my profile where the "gear" is upper right, I can tap on that to adjust my settings including tapping on adjust my "interests".
Speaking of settings, you can also adjust notifications, which I highly suggest you do, or you will lose your mind. I also have "trending room" turned off.
BONUS TIP: Clubhouse does not
How To Create A Club On Clubhouse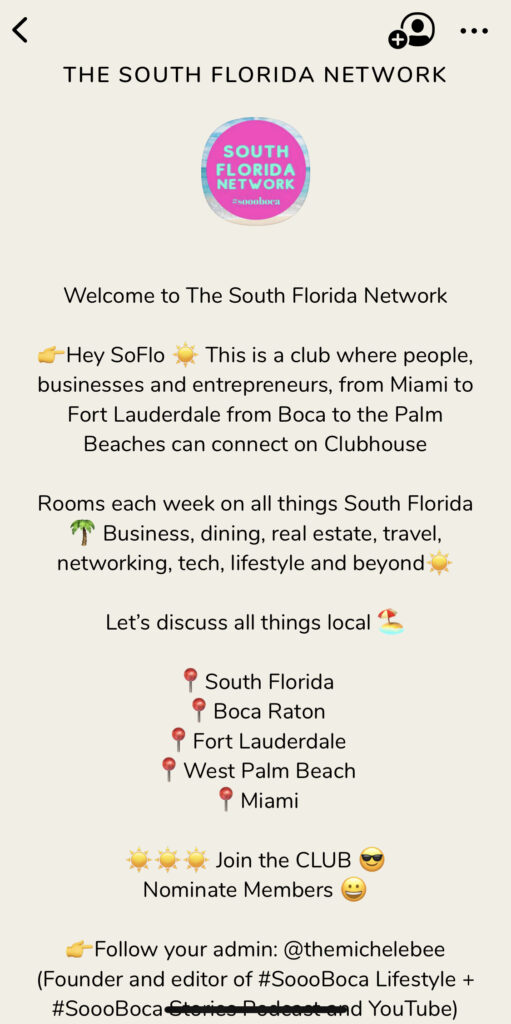 As of this post, Clubhouse loosened up their rules and guidelines for creating actual Clubs in the app. Now anyone can create a club. For example, as I mentioned, I have created two clubs. The South Florida Network, to connect locals and business owners together in conjunction with Facebook group of the same name and Club REAL #realtorlife (for Realtors).
The cool part about clubs is that you can "host" rooms under that club name and continue to grow your followers and connect with people you want to get to know or do business with. You can also let other people host a room in your club or co-moderate/host together. Very cool and great for getting known.
Bonus: The more rooms you add value you to the better.
14 Pros & Cons Of Clubhouse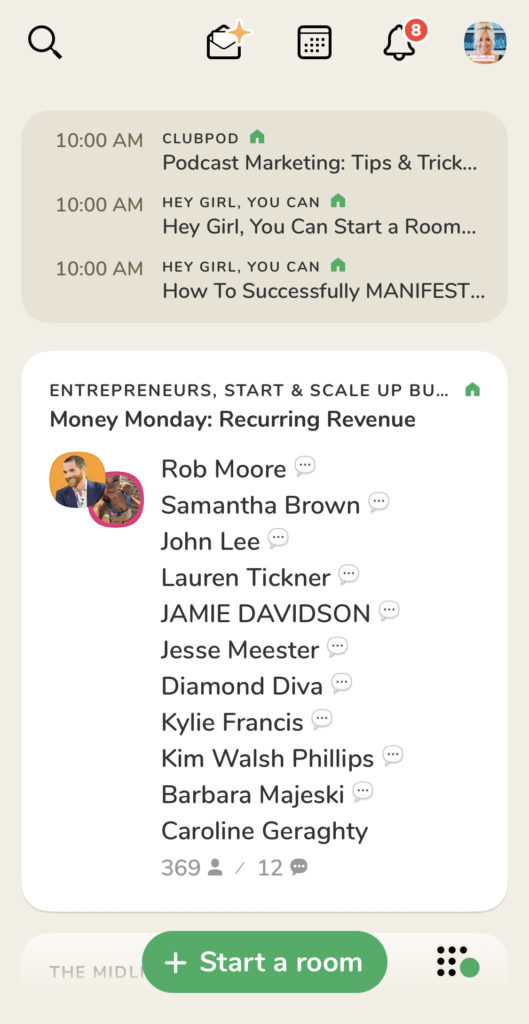 Here are the Pro's:
⠀⠀⠀⠀⠀⠀⠀⠀⠀⠀
1. Mastermind Rooms (that if you were paying for would be $1000's of dollars)⠀⠀⠀⠀⠀⠀⠀⠀⠀

2. High Level Coaches, CEO's and Influencers Are There And Sharing Knowledge⠀⠀⠀⠀⠀⠀⠀⠀⠀

3. Networking (You can add your Instagram and Twitter) and direct people there. PS… your follower count will start growing. ⠀⠀⠀⠀⠀⠀⠀⠀⠀

4. You can start a private room with people or a public room and share your knowledge as a moderator⠀⠀⠀⠀⠀⠀⠀⠀⠀

5. Connect and engage with people in your industry and in your related niches ⠀⠀⠀⠀⠀⠀⠀⠀⠀

6. Learn from experts, colleagues, grow your own authority as an expert and plant the seeds for referrals and future business.
7. Find guests for your podcast or become a guest on someone else's podcast.
8. Mastermind rooms that you can join in or start.
Here Are The Cons:
A little clique at times just like any club.
2. There are people on the app that will try to sell you courses and products. Buyer Beware!
3. It can be a time suck if you don't control the notifications and your time on the app.
4. Make sure that you take what you need and leave the rest!
5. Everyone professes to be an expert…trust me, they are not. Bad advice is in every room so please do your due diligence.
6. Racism, bullying and rudeness have been ongoing concerns of the Clubhouse community and are against terms and service.
Clubs You Might Want To Following
There are 1000's of clubs now on Clubhouse. Don't just hang out in your industry, check out other industries and conversations! I love checking out the blogging clubs!
The Real Deal Club – Sue B. Zimmerman – The Instagram Expert – @suebzimmerman
The Midlife Network – Colleen Rosenblum – Hot Flashes Cool Topics – @colleenrosenblm
WomXn in Business – Christina Holder – @xtinaholder
Good Morning, Real Estate! – German Hernandez – @yourswflrealtor
Luxury Travel House
Breakfast With Champions
The Hustler Club
New Bloggers Club
Last Thoughts
As someone that loves to try all the different platforms that show up on my radar, I really try to keep it simple. One, it must be a connector, it must have the ability to generate leads and referrals, it must hold my interest and it must be profitable. I have already generated 2 referrals on Clubhouse in the last 30 days so this definitely checks the boxes I like for spending time on any social media app.
About Michele
Michele Bellisari is the founder of #SoooBoca® Lifestyle & Media based in Boca Raton and a Realtor with Real Broker, LLC. If you are thinking of buying or selling real estate in Boca Raton and any of the surrounding cities let her help you out! Start your search here! Michele blogs, vlogs, posts and shares all things Boca Raton, South Florida & Beyond from events, people, food, travel, home decor, fashion, beauty and real estate! You can find more at www.soooboca.com and on all the socials @soooboca.
⠀