#SoooBoca Lifestyle has some exciting news of a festively fun holiday event with some of your favorite Real Housewives, coming to the opening weekend of The Studio at Mizner Park on Saturday, December 17th! with some of our favorite Real Celebrity Housewives!
VIP Cocktail Reception and Meet and Greet – 7pm – Tickets $99
Panel and Q&A – 8pm – Tickets $69-$99
My gal pals and I have been fans of the Bravo Real Housewives franchise since 2006 with the very first series, The Real Housewives of Orange County! The taglines, the tops and the over the top real estate was just too much fun!
Come join myself, Michele Bellisari and my good friend Olivia Hollaus, as we host a night of holiday glam with celebrity housewives Ramona Singer (RHNY), Margaret Josephs (RHNJ) and Marysol Patton (RHOM) to see what they have been up to both personally and professionally!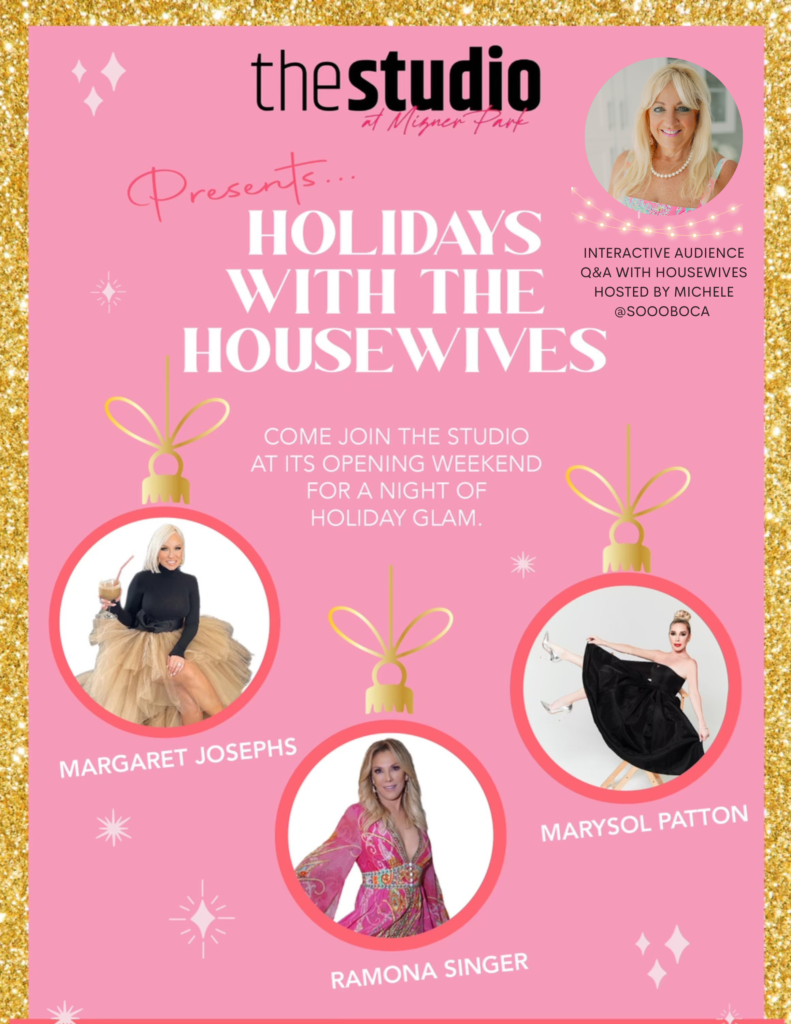 Meet The Celebrity Housewives
Margaret Josephs
Margaret Josephs is a designer, entrepreneur, lifestyle expert, TV personality, podcast host and author. Known for her platinum blonde hair, often worn in trademark pigtails and infectious energy, "The Marge" has never compromised her colorful style or subdued her personality to be taken seriously and succeed in the male dominated business world. Margaret is currently in her 6th season on Bravo's Real Housewives of New Jersey and is a fan favorite, known for her quick fire one liners and no nonsense approach. Margaret applies this attitude to all her passions including her philanthropic endeavors and her newest project, her line of mocktails "Soirée"!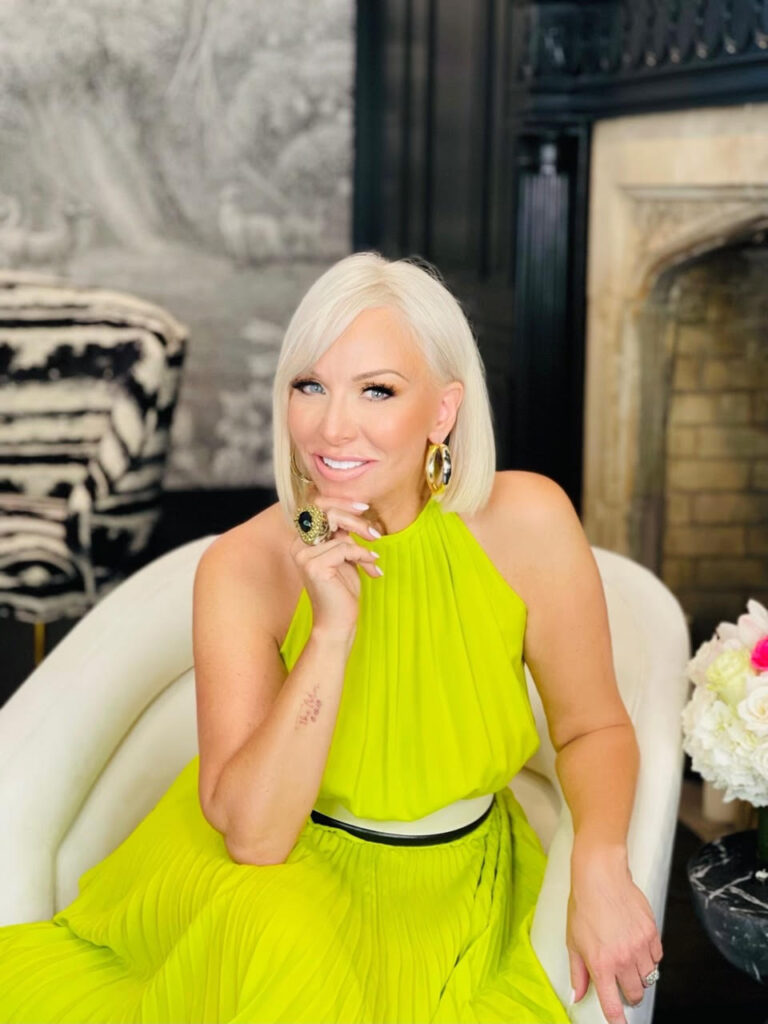 Ramona Singer
Ramona Singer is television personality, entrepreneur, real estate agent, and author. She is best known as a main cast member on the reality television series The Real Housewives of New York City, in which she has starred in the first 13 seasons from 2008 to 2021.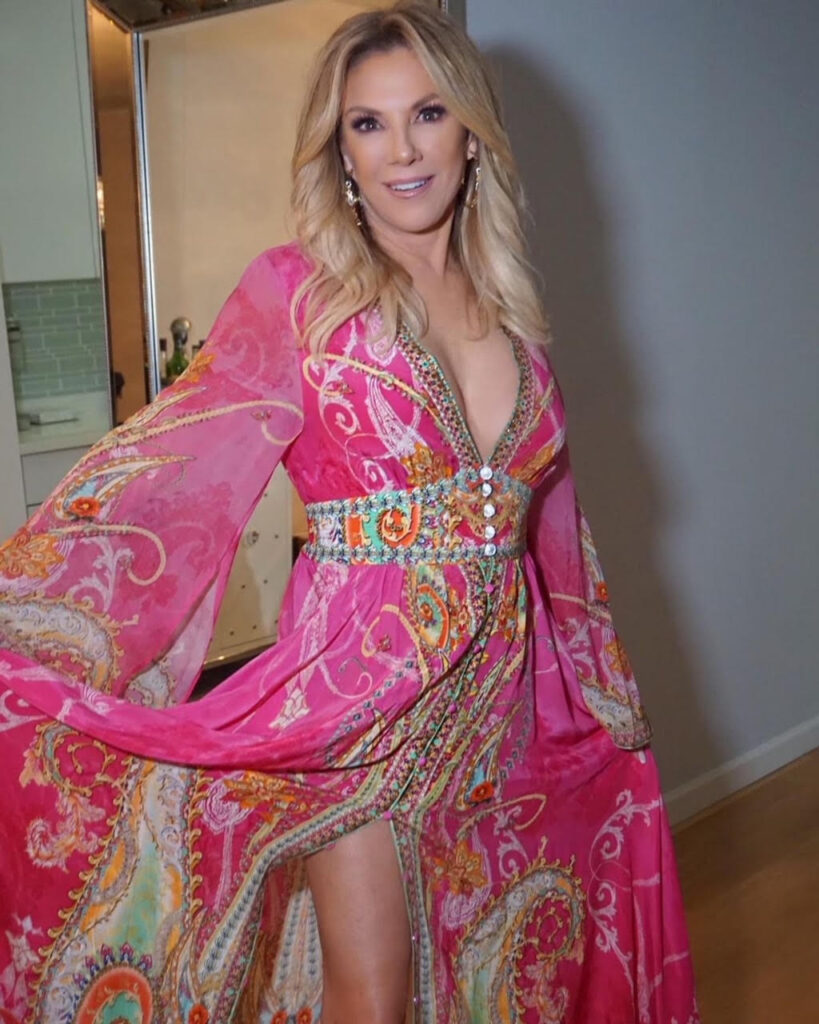 Marysol Patton
Miami native Marysol Cristina Patton, known as Marysol Patton, is one of the Magic City's most sought-after women both socially and professionally. Well-spoken and quick-witted with a bubbly personality and ability to capture the attention of everyone around her, made Marysol an obvious choice to be cast as one of the original cast members of BRAVO's Real Housewives of Miami (RHOM). With a cult following, the show – which aired from 2011 – 2013 – is making a comeback in 2021 with Marysol front and center. In addition to RHOM, Marysol has made appearances on Millionaire Matchmaker, Real Housewives of Atlanta, Real Housewives of Beverly Hills, and Shahs of Sunset.
Marysol owned The Patton Group, a Public Relations & Events Agency that handled media and put on one-of-a-kind events for some of Miami's top luxury affairs and international brands. Companies and brands such as Pomellato, Oscar de la Renta, Valentino, Carolina Herrera, Roberto Cavalli, Valentino, Emilio Pucci, Roger Vivier, Gucci, Bulgari, Harry Winston, Cartier, and many more. Marysol, who retired in 2016, recently married Steven McNamara, the love of her life.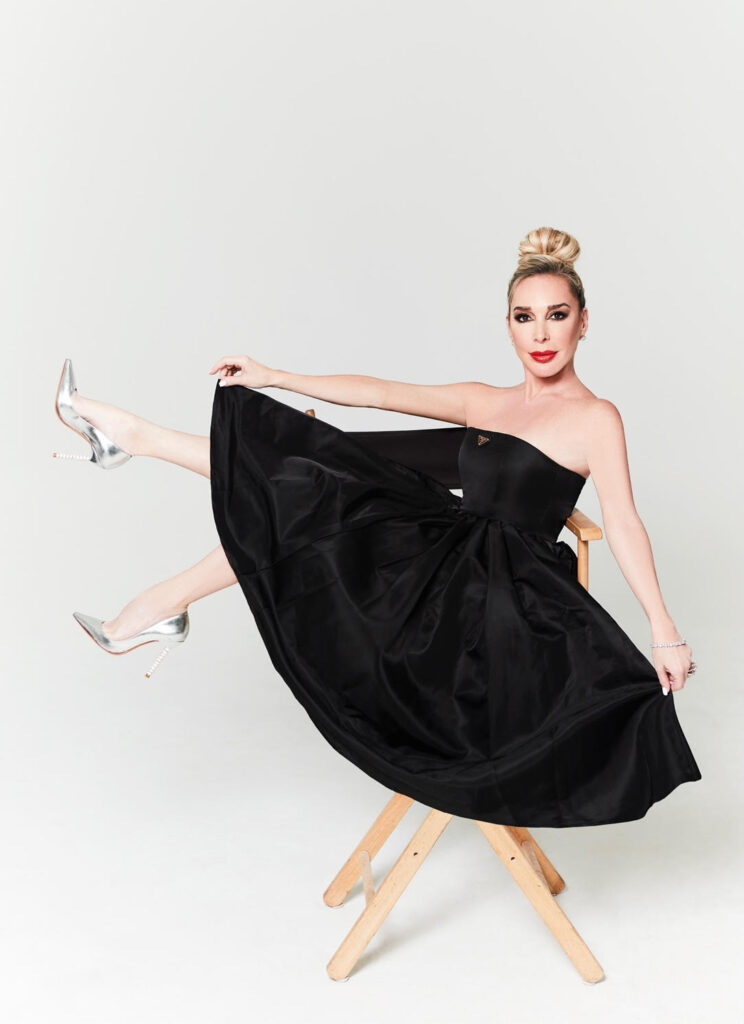 An Evening Of Celebrity Housewives Fun
Come early and join the ladies for dazzling VIP cocktail reception or come for the show! Ring in the holiday season with style at The Studio! VIP Meet and Greet tickets are also on sale to meet your fave "housewives" before the show!
The Studio at Mizner Park
The Studio at Mizner Park has opened as Boca Raton's premier entertainment destination. Overlooking Mizner Park, located in the Southwest corner, The Studio brings award-winning live theater, musicals, concerts, programming and expansive event space to Downtown. A 300 seat black box theater, 4,500 square foot event space and a gallery with open bar and entertainment, the possibilities are endless.
The catering kitchen is fully equipped to accommodate The Studio's exclusive in-house caterer, Boca Raton-based Potions in Motion.
Under the creative direction of Stephanie Siegel, the newly named Executive Director, The Studio will kick-off the holidays with a diverse and energetic schedule of headliners
PS…Mizner Park has great restaurants, bars and shopping + parking on the street, via valet or in one of the garages!
Get your tickets before they sell out! This is a great gift for that special someone!
Lastly, don't forget to check out December holiday events happening all over South Florida!
About Michele Bellisari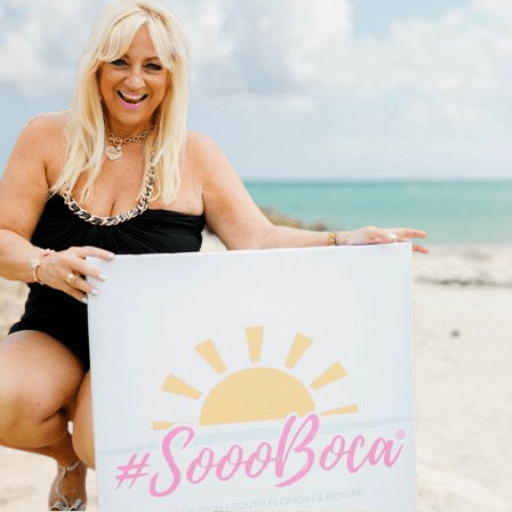 Michele Bellisari is the founder of #SoooBoca® Lifestyle & Media based in Boca Raton and a Realtor with Real Broker. She is a national speaker in regard to real estate and women in business, a podcaster, blogger, vlogger and posts and shares all things Boca Raton, South Florida & Beyond from events, about people, food, travel, home decor, fashion, beauty and real estate! You can find more at www.soooboca.com and on all the socials @soooboca. If you would like to be featured or would like to advertise please contact us.
How Can I Help You Buy or Sell A Property?
Click to Get Your Home Valuation
Palm Beach County Neighborhood Snapshots
Information in any posts on #SoooBoca if real estate or financially related should be verified with your accountant, attorney and or financial planner as well as the state of Florida. Information in all posts should be verified independently. Information deemed reliable, not guaranteed.